Description
Applications:
Sprouting assays
Immunofluorescence staining
Cultivation and microscopy of both living and fixed cells
Technical Features: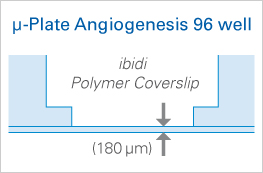 Specifications:
Number of wells
96
Length / Width
127.7 / 85.5 mm
Heigh with / without lid
16.6 / 14.4 mm
Well-to-well distance
9.0 mm
Volume inner wells
10 µl
Ø Inner wells
4 mm
Volume upper wells
70 µl
Ø Upper wells
5 mm
Growth area per inner well
0.125 cm²
Coating area per inner well
0.23 cm²
Well clearance
1.0 mm
Bottom: ibidi Polymer Coverslip
Angiogenesis Assays in vitro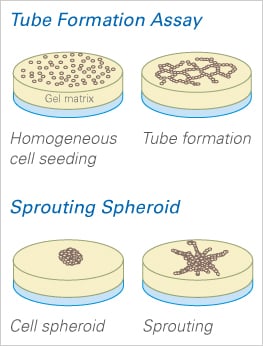 Cells on gel matrices can be used to monitor their ability to form new vascular structures. Tube formation assays are carried out by seeding single cells onto the gel matrix and observing characteristic patterns. To carry out sprouting assays, either spheroids or pieces of tissue, e.g., from the aorta, are placed onto the gel matrix. Both these types of assays require that the underlying gel layer be of uniform thickness.
µ-Plate Angiogenesis 96 well vs. Standard 96 well Plate

µ-Plate Angiogenesis
96 Well
Planar air-liquid interface:
good phase contrast all over the observation area
Planar gel surface:
all cells are in one optical plane
Volume of Matrigel: 10 µl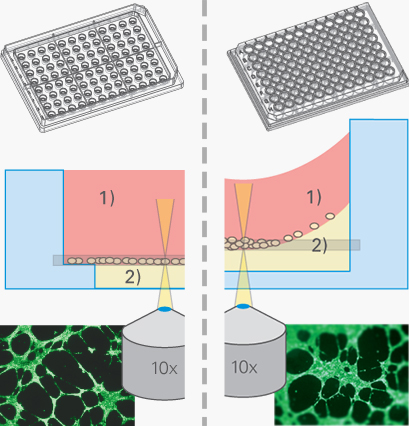 Standard well
Meniscus on air-liquid interface:
poor phase contrast in most of the observation area
Mensicus on the gel surface: not possible to focus on all cells simultaneously
Volume of Matrigel: 100 µl
Technical Drawing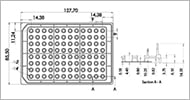 Instructions
Application Notes
Movies
Webinar
Product Flyer
FAQ
Sam Noppen, Rega Institute for Medical Research, Leuven, Belgium
"I used the ibidi µ-Plate Angiogenesis 96 Well for bioluminescence measurements. The plate performed exceptionally well for this specific application, as it reduced my sample volume drastically and the optical quality was just superb."
Sam Noppen
Rega Institute for Medical Research, KU Leuven
Leuven
Belgium