Description
Applications:
Cell culture and high resolution fluorescence microscopy
Immunofluorescence staining
Suitable for DIC, when used with the special DIC Lid
Technical Features
Standard format dish with a 35 mm diameter
Made of biocompatible material using no glues, consequently no cells are harmed
Rim for easy opening
No autofluorescence
Compatible with all staining and fixation solvents

High walls

Specifications:
| | |
| --- | --- |
| Ø µ-Dish | 35 mm |
| Volume | 2 ml |
| Growth area | 3.5 cm2 |
| Coating area using 400 µl | 4.1 cm2 |
| Ø observation area | 21 mm |
| Height with / without lid | 14/12 mm |
| Bottom: ibidi Polymer Coverslip | |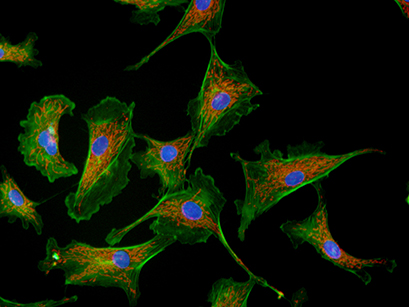 Immunofluorescence of mouse cells
Blue: nucleus (DAPI)
Green: tubulin (Alexa488)
Lid with Lock Position
The special lock feature in all ibidi µ-Dishes enables the user to minimize evaporation. The lock position provides excellent conditions for long term studies in non humidified environments. Gas exchange (carbon dioxide, oxygen) during cell culture is maintained thanks to the gas permeable plastic material of the dish.
TIP: Use the locking feature only if minimal evaporation is required, i.e., outside incubators, non humidified microscopy stages, etc.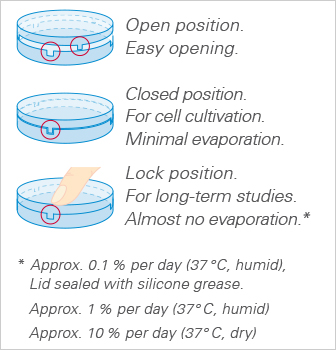 ibidi µ-Dish Family: Versions and Variations



High walls:
Used for all standard applications
Low walls:
Provide greater cell access (useful for micromanipulation)
Detailed Comparison ibidi Dishes 35 mm
Bottom Thickness

180 µm (+10/-5 µm)

170 µm (+/-5 µm)

170 µm (+20/-10 µm)

Bottom Material

#1.5 Polymer coverslip
(ibidi)

#1.5H glass coverslip
(D 263 M Schott high precision glass)

#1.5 glass coverslip
(D 263 M Schott high precision glass)

Lid

Lid lock for minimal evaporation
and safe handling

Lid lock for minimal evaporation
and safe handling

Standard

Surfaces

ibiTreat (tissue culture treated),
Uncoated (hydrophobic)

Uncoated glass

Uncoated glass

Gas permeable

Yes

No

No

Packaging

Sterile, single-packed

Sterile, single-packed

Sterile, packed at 10 pcs.

Quantity

60 pcs./box

60 pcs./box

200/800 pcs./box

Free Sample

Yes

Yes

Yes
Microscopy Applications:
Optical Properties:
Refractive Index
(nD 589 nm)

1.52

1.52

1.52

Abbe number

55

56

56

Autofluorescence

Low

Low

Low

Transmission

Very high (even ultraviolet)

High (ultraviolet restrictions)

High (ultraviolet restrictions)

Birefringence (DIC)
Note:
1 High resolution microscopy = high magnification (40x – 100x) and high resolution microscopy including widefield or confocal techniques (e.g., brightfield, DIC, fluorescence). The resolution is limited to ~200 nm by the diffraction limit. Does not include Super-Resolution.
Resolution is described as a function to discriminate 2 dots from each other; it is dependent on wavelength and numerical aperture. It is physically limited by Abbe's law which can only be overcome by Super-Resolution microscopy.
2 Super-Resolution microscopy = additional resolution by overcoming the diffraction limit with 63x – 100x oil immersion objectives. Super-Resolution provides a resolution below 200 nm, down to 5-20nm by computational (PALM, SIM, STORM, RESOLVED) and one optical Super-Resolution technology (STED). TIRF is not a Super-Resolution technology.
³ DIC Compatibility = The lids are not DIC compatible. Special glass DIC Lids for the µ-Dishes are available separately.
Anuradha Vajjala, Nanyang Technological University, Singapore Centre on Environmental Life Sciences Engineering, Singapore
"To study the ultra structure of Streptococcus pyogenes biofilm grown on mouse embryonic fibroblasts, I used the ibiTreat 35mm μ-Dish to optimize the right conditions of biofilm growth. Simply awesome! It has made life so much simpler for me. Tissue culture combined with microscopy is so much easier now. The dishes are very user-friendly too. I have used the ibidi products to get very good quality images. I am really happy with the products!"
Anuradha Vajjala
Nanyang Technological University
Singapore Centre on Environmental Life Sciences Engineering
Singapore
Randy Van Der Ploeg, St. Boniface Research Centre, Winnipeg, Manitoba, Canada
"We are pleased with the ibiTreat 35 mm culture dishes. I have given some of your product to one of our grad students to try and he is amazed with the robust axonal outgrowth that he finds only after one day of seeding cells. I have tested other dishes from your competitors and I did not get the reproducibility in growth characteristics like the ibiTreat µ-Dish.
The 35 mm dish holds up wonderfully to automated scanning over a wide scan area (essentially 98% of the growth surface area) which demonstrates the optical clarity and focal stability of the surface over such a wide area (1296 scan fields per well). I look forward to using more of the ibidi product lines in the future."
Randy Van Der Ploeg
Division of Neurodegenerative Disorders
St. Boniface Research Centre
Winnipeg, Manitoba
Canada
Matthew Taylor, PhD, Princeton University, Princeton, USA
"The 35 mm µ-Dish is invaluable for high resolution imaging performed in support of my work. The optical plastic is fantastic substrate for building compartmentalized neuronal cultures. Thank you for making great products."
Matthew Taylor
Post-doctoral Fellow
Department of Molecular Biology
Princeton University
Princeton, NJ
USA
Jason Jacoby, University of Illinois, USA
"Actually, ibidi dishes have single-handedly revolutionized my science. The cells that I use (horizontal retinal cells from fish) are extremely intolerant to being plated on any form of glass, even if the glass is treated with several different compounds. Because of this issue, I was only able to perform fluorescent microscopy on upright confocal microscopes; they allowed us to plate our cells on plastic dishes and image from above. Now, with the ibidi dishes, we are able to use better quality inverted microscopes and higher powered objectives. Our results have proven strong, and we have mentioned the power of ibidi products in our most recent publication.
I am so happy that I learned of your great products through a colleague. Microscopy will never be the same for our laboratory. So far I have purchased 3 boxes of 35mm ibiTreat high dishes. Thank you very, very much."
Jason Jacoby PhD Candidate
Laboratory of Neuroscience
University of Illinois at Chicago
USA