Description
Applications:
Cultivation and microscopy of cell cultures
Transfection assays
Fluorescence microscopy of both living and fixed cells
Live cell imaging over extended time periods
Suitable for DIC, when used with a DIC lid
Technical Features:
Open µ-Slide (chambered coverslip) with 4 independent wells
Excellent optical quality imaging chamber for high-end microscopy
Compatible with staining and fixation
ibiTreat surface for optimal cell adhesion
Made of biocompatible plastic material – no glue and no leaking
Also available with a glass bottom
Specifications:
Number of wells
4
Dimensions of wells
(w x l x h) in mm
21.6 x 11.4 x 9.3
Volume per well
700 µl
Total height with lid
10.8 mm
Growth area per well
2.5 cm²
Coating area per well
4.1 cm²
Bottom: ibidi Polymer Coverslip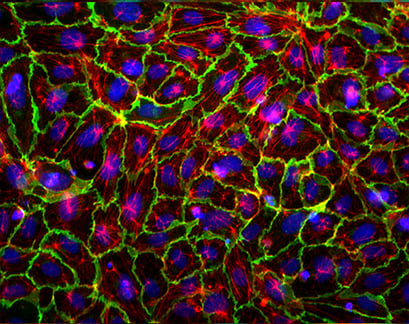 Immunofluorescence of Human Umbilical Vein Endothelial Cells (HUVEC) in a µ-Slide 4 Well
Blue: Nucleus (DAPI)
Green: VE-Cadherin (Alexa555)
Red: F-Actin (Alexa488)
Madeleine Zerbato, Brigham Regenerative Medicine Center, Cambridge, USA
"The ibidi µ-Slide 4 Well and µ-Slide 8 Well that I am working with are actually the best products I have tested so far for cultivating D3 mouse embryonic cell lines. They attach well to the treated slide (ibiTreat µ-Slides), and the resulting morphology is very similar to the one they have on regular plastic. That is something very unique to those microscopic slides, since D3 mESCs do not attach to glass and form embryoid-like structures. I tested other non-glass slides from other manufacturers but the ibiTreat µ-Slides are the only ones that give me a physiological-like morphology."
Madeleine Zerbato
Brigham Regenerative Medicine Center
Cambridge, USA
Barbara Fogli, Medical University Innsbruck, Austria
"I tested the µ-Slide 4 Well for the culturing of mice DRG neurons. I found them particularly useful for my experiments, since they allow me to have different conditions within the same slide, and to directly do staining and microscopy within the same slide.
After testing them, I decided to order a box of the µ-Slide 4 Well Ph+, because the plastic layer in the middle of the wells allows me to have a more homogeneous distribution of the neurons, which is optimal for microscopy."
Barbara Fogli
Medical University Innsbruck
Austria
Catarina Leite Pereira, University of Porto (INEB), Porto, Portugal
"I have done some experiments using the µ-Slide 2 Well and µ-Slide 4 Well for static culture ex vivo, and imaging of intervertebral discs at the IN Cell Analyzer. They work perfectly! Thank you very much, these slides are really very useful, since I have been struggling for some time trying to find the appropriate support to visualize this kind of sample."
Catarina Leite Pereira
University of Porto (INEB)
Porto
Portugal
Owen McCarty, PhD, Oregon Health & Science University, Portland, USA
"The ibidi platforms have opened new possibilities for our group to utilize small volumes of blood to characterize the cell biology of platelets and white blood cells. Moreover, we have greatly benefited from collaborating with the technical representatives at ibidi to discuss ways to multiplex the ibidi platforms to address our experimental questions."
Owen McCarty, PhD
Associate Professor
Department of Biomedical Engineering
Oregon Health & Science University
Portland, Oregon
USA
https://www.ohsu.edu/xd/education/schools/school-of-medicine/departments/basic-science-departments/biomedical-engineering/