Description
Applications:
Locating cells or cell clusters, e.g., transfected cells for clone picking
Counting events per defined area (e.g., for calculating transfection efficiency)
Providing a reference structure for cell movements
Cultivation and microscopy of cell cultures
Fluorescence microscopy of living and fixed cells
Live cell imaging over extended time periods
Suitable for DIC, when used with a DIC lid
Technical Features:
Grid with a 500 µm repeat distance
Lettered and numbered fields (A-K; 1-10)
Open µ-Slide (chambered coverslip) with 8 independent wells
Grid clearly visible in phase contrast and bright field microscopy; slightly visible in fluorescence mode
Excellent optical quality imaging chamber for high-end microscopy
Compatible with staining and fixation
ibiTreat surface for optimal cell adhesion
Biocompatible plastic material — no glue, no leaking
Specifications:
Geometry of the Grid-500
| | |
| --- | --- |
| Number of view fields | 100 |
| Repeat distance | 500 µm |
| Groove width | 5 µm +/- 1 µm |
| Groove depth | < 5 µm |

Geometry of the µ-Slide 8 Well
Number of wells
8
Dimensions of wells (w x l x h) in mm
9.4 x 10.7 x 6.8
Volume per well
300 µl
Total height with lid
8 mm
Growth area per well
1.0 cm²
Coating area per well
2.20 cm²
Bottom: ibidi Polymer Coverslip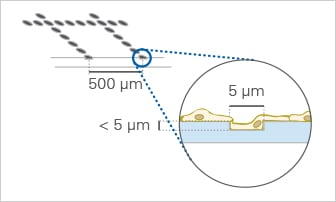 Layout Grid-500: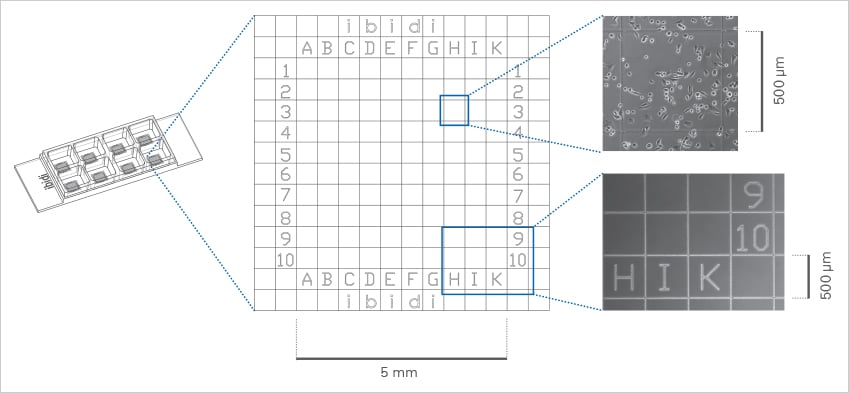 Astrid König, Senckenberg Museum of Natural History, Görlitz, Germany
We use the μ-Slide 8 Well Grid-500 for tracking experiments of tardigrades and nematodes. We are really thrilled about the product. The scaling of the slide helps us very much in evaluating the movement of the animals during the experiment.
Please find more details at:
https://onlinelibrary.wiley.com/doi/10.1111/zoj.12435/full
Astrid König
Senckenberg Museum of Natural History
Görlitz, Germany
Sofia Oke, University of Toronto, Department of Immunology, Toronto, Canada
"I have had the chance to try the µ-Slide 8 Well Grid-500 and have been very impressed. I have been using the slides to perform assays with 3D organoid cultures. The µ-Slide 8 Well Grid-500 was very useful and easy for me to monitor my organoids as they grew. I was performing an assay where I irradiated my organoids and monitored recovery. I am very impressed with these products and will be sure to keep in touch if I once again need them in the months to come.
Sofia Oke
University of Toronto, Department of Immunology
Toronto, Canada