Description
Applications:
Technical Features:
Standard slide format
Closely fitting lid to reduce evaporation
4 mm well within a 5 mm well
Homogeneous 0.8 mm thick gel layer*
Homogeneous cell growth
Compatible with staining and fixation
Excellent optical properties for microscopy
Compatible with multi-channel pipettes
Made of biocompatible plastic material – no glue, no leaking
Suitable for use with various types of gels, e.g. Matrigel™, collagen, and agarose*
Also available in a 96 well format: µ-Plate Angiogenesis 96 well
*The gel matrix is not part of the product.
Specifications:
Number of wells
15
Volume inner well
10 µl
Ø inner well
4 mm
Volume upper well
50 µl
Ø upper well
5 mm
Growth area per inner well
0.125 cm²
Coating area per inner well
0.23 cm²
Bottom: ibidi Polymer Coverslip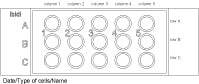 Define and print your experimental setup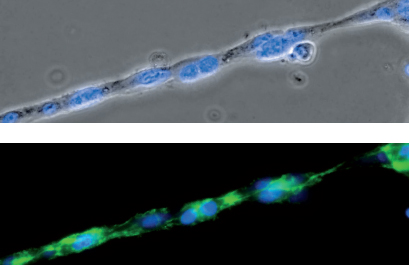 Fluorescence microscopy of one single strand composed of HUVEC cells. F-actin cytoskeleton stained green, and cell nuclei blue.
Angiogenesis Assays in vitro
Cells on gel matrices can be used to monitor their ability to form new vascular structures. Tube formation assays are carried out by seeding single cells onto the gel matrix and observing characteristic patterns. To carry out sprouting assays, either spheroids or pieces of tissue, e.g., from the aorta, are placed onto the gel matrix. Both these types of assays require that the underlying gel layer be of uniform thickness.

"Well-in-a-well" feature avoids meniscus formation
The μ-Slide Angiogenesis requires only 10 µl of gel per well. It is suitable for use with all common gel matrices, such as Matrigel™, collagen gels and hyaluronic acid gels. Another advantage of the µ-Slide Angiogenesis is that assays benefit from having a gel matrix of uniform thickness. Furthermore, not only does this slide provide reproducible cell culture conditions, it also ensures all cells are in one optical plane.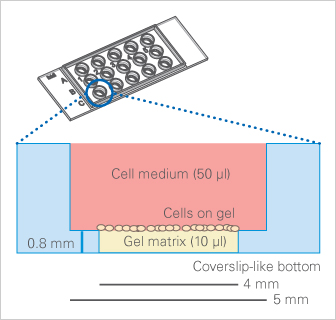 μ-Slide Angiogenesis versus Standard Well
|
|
|
|
|
|
|
|
|
|
|
|
|
|
|
|

µ-Slide Angiogenesis


Planar air-liquid interface:
good phase contrast all over the observation area
Planar gel surface:
all cells are in one optical plane

Volume of Matrigel: 10 µl

Standard well

Meniscus on air-liquid interface:
poor phase contrast in most of the observation area
Mensicus on the gel surface: not possible to focus on all cells simultaneously

Volume of Matrigel: 100 µl
The µ-Slide Angiogenesis Can Be Used in a Wide Range of Applications

Normal use – for tube formation assays
Tube formation assays are carried out by seeding single cells on top of a 10 µl gel layer and observing characteristic patterns.

Lower volumes of gel – for focusing cells
When used with less than 10 µl of gel the µ-Slide Angiogenesis can be used to cultivate small numbers of cells on a soft gel surface.

Cells embedded in gel matrix – 3D cell culture
The "well in a well" feature of the μ-Slide Angiogenesis also supports microscopy of cells embedded in gel matrices. 3D cell cultures mimic in vivo conditions of, e.g., cancer cells and hepatocytes. The combination of the gel matrix with the medium reservoir above it allows for fast and easy medium exchange by diffusion.

Without any gel matrix – low volume microscopy chamber
The µ-Slide Angiogenesis can also be used without any gel. In this fashion it can be used as a 15 fold sample chamber for, e.g., coating experiments.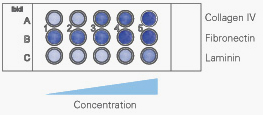 Also applicable for IF-based coating tests.
Kaela Varberg, Indiana University, School of Medicine, Indianapolis, USA
"The µ-Slides Angiogenesis created by ibidi have significantly increased the efficiency and accuracy of the angiogenesis assays in our lab. Using the ibidi slides not only reduces the amount of time spent capturing images, but it also reduces the time it takes to quantify the data since the structures are in the same focal plane. Another added bonus is the reduced amount of matrigel required for each experiment which saves money!
Kaela Varberg
Indiana University
School of Medicine
Indianapolis
USA
Dr. Esther G.L. Koh, National University of Singapore, Singapore
"ibidi made it much simpler for me to prepare cells for confocal microscopy and live-cell timelapse microscopy. Cells that attached poorly to glass grew better on ibidi µ-Slides/Dishes. The angiogenesis slide allowed me to minimise the amount of cells and reagents required for an experiment."
Dr. Esther G.L. Koh
Head, Advanced Imaging Laboratory
Life Sciences Institute Immunology Programme
National University of Singapore
Centre for Life Sciences
Singapore
Prof. Dr. Stefan Zahler, University of Munich, Germany
"Using the "angiogenesis slide" from ibidi is the only possibility that I know for achieving a consistently good optical quality in the tube formation assay, and saving Matrigel at the same time.
In comparison to other systems, the heating stage from ibidi shows superior thermal stability and enables you to work with high humidity (>80%). This is not possible with other systems but is indispensable for long-term studies."
Prof. Dr. Stefan Zahler
Pharmaceutical Biology
Munich Center for System-Based Drug Research
Ludwig-Maximilians-University
Germany