Description
Applications:
Chemotaxis of neutrophiles, lymphocytes, and monocytes
3D chemotaxis of leukoycytes or cancer cells in ECM-like matrix
Chemotaxis experiments of fast or slow migrating cells
Invasion assays of tumor cells in Matrigel™
Technical Features:
Chamber geometry optimized for cells in 3D matrices
3 chambers on one slide for parallel assays
Ideal for collagen gels, hydrogels, Matrigel™, or similar aqueous gels
Ready to use, i.e., no assembly required
Lettered and numbered chambers and reservoirs
Please find more detailed information about chemotaxis assays here.
Specifications:
Chemotaxis chambers on slide
3
Volume per chamber
120 µl
Observation area
2×1 mm²
Coating area per chamber
– When coating full chamber
– When coating observation area only
3.50 cm2
0.27 cm2
Distance between chambers
18.5 mm
Total height with plugs
12 mm
Volume chemoattractant
30 µl
Bottom: ibidi Polymer Coverslip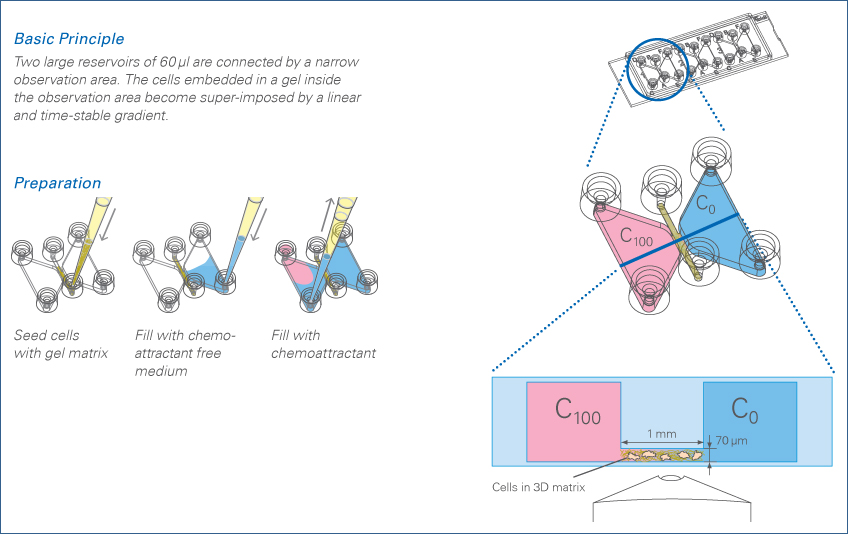 Application Examples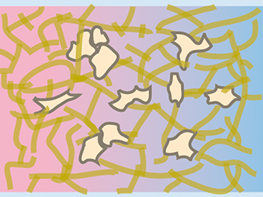 Cells, embedded into a gel, migrating towards a chemoattractant.
Dendritic cell (mouse) with LifeAct-labeled F-actin that is migrating towards CCL 19 inside a Collagen I gel matrix. Spinning disc confocal microscopy (objective lens 63 x).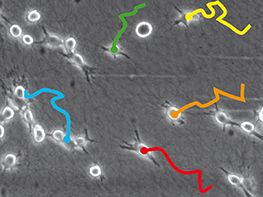 HT-1080 cells migrating towards FCS inside a gel matrix (objective lens 10 x).
Necessary Equipment
Basic requirements:
Inverted microscope with a 5x objective and 10x phase contrast
Basic camera for time lapse movies
Heated microscopy system (required for experimentation on most mammalian cell types)
Recommended extensions:
Motorized stage for parallel data acquisition
Auto focus
Data Analysis
To facilitate analysis of results from chemotaxis experiments (time stacks) ibidi has developed this software analysis tool. The tool provides various types of graphs and statistical tests for advanced analysis of experimental data.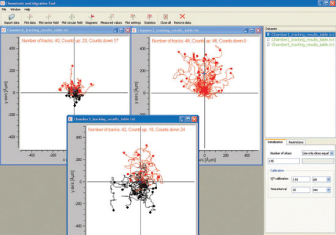 Loïc Dupré, INSERM, Toulouse, France
"The ibidi µ-Slides Chemotaxis have been the key to my research on lymphocyte chemotaxis. These slides have allowed me to track and visualize directional motility in lymphocytes. The generated chemokine gradients are stable for over 24 hours and the viability of the cells is amazingly good, allowing for measurements of chemotaxis over prolonged time frames.
I am also using the ibidi Gas Incubation and Temperature Control Systems, which are robust and guarantee perfect stability. Very importantly, the product developers at ibidi provide a great support for the implementation of their systems. Thanks to ibidi for developing cell imaging products of such great quality!"
Loïc Dupré PhD
INSERM UMR 1043
Purpan University Hospital
Toulouse
France