Description
Specifications:
Number of wells
2
Outer dimensions
(w x l x h) in mm
8.4 x 8.4 x 5
Volume per well
70 µl
Growth area per well
0.22 cm²
Coating area per well
0.82 cm²
Width of cell free gap
500 µm +/- 50 µm
Material
Biocompatible silicone
Bottom
No bottom – sticky underside
Principle for Wound Healing and Migration Assays
Step 1:
cell seeding and attachment
Step 2:
remove insert after cultivation

Step 3:
overlay patches with culture medium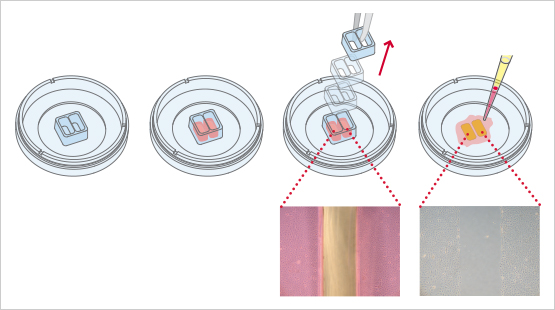 Various Applications
Wound Healing / Migration
Wound healing and migration assays are done by seeding cells into the Culture-Insert 2 Well. After cell attachment, a cell-free gap is created in which the cell migration can be visualized.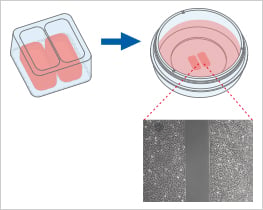 Co-Cultivation / Invasion
The Culture-Insert 2 Well can also be used for seeding two different cell types. After the removal of the insert, the cell fronts can be analyzed for their invasional behavior.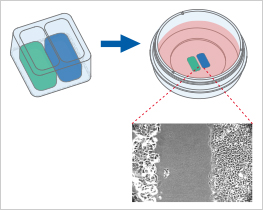 Visualization of Cell Migration
Culture-Inserts vs. Scratch Assay: Two assays that are not 100% comparable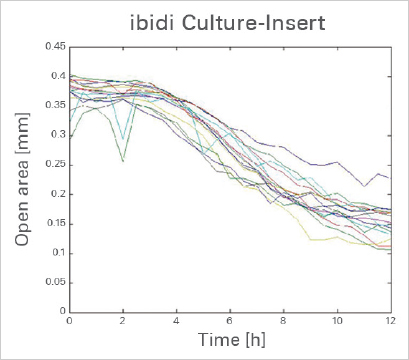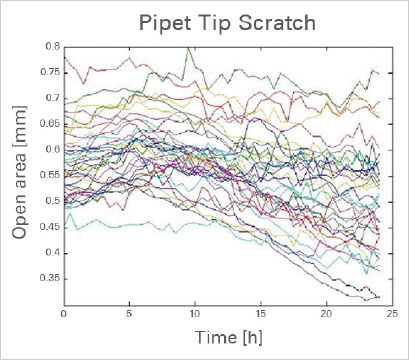 The ibidi Culture-Insert provides improved reproducibility, compared to a Scratch Assay.
Data provided by M. Börries, University Freiburg, Germany.
ibidi Culture-Inserts
Cell-seeding into designated areas
Defined cell-free gap
Defined non-coated surface (ibiTreat)
No cell damage
Internal reference*
Scratch Assay
Scratching the cell surface with a needle or pipet tip
Varying cell-free gap – i.e., not reproducible
Might contain extra-cellular matrix remains
Cell damage
No internal reference*

*Internal Reference
The internal reference may answer the question as to whether two opposite cell fronts influence each other or not. With the defined cell seeding technique, it is possible to measure the speed of:
A: a cell front that is opposite another cell front; and
B: a single cell front that does not have an opposite cell front.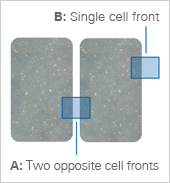 Henrike Rebl, University Medicine, Rostock, Germany
"I have tested the Culture-Insert 2 Well and 3 Well and they worked quite nicely. I will definitely use the ibidi Culture-Inserts and µ-Dishes again because they are so easy to use and they work great for fluorescence microscopy."
Henrike Rebl
University Medicine
Rostock, Germany
https://www.med.uni-rostock.de
Gisa Gerold, TWINCORE – Center for Experimental and Clinical Infection Research, Hannover, Germany
"We tested the Culture-Inserts 2 Well and now use them successfully on human hepatoma cells (Lunet N3 hCD81 cells, which are derived from Huh-7.5 cells). We are very satisfied with the ibidi products and with the fast delivery of the test chambers."
Gisa Gerold
TWINCORE – Center for Experimental and Clinical Infection Research
Hannover, Germany
Renate Gehwolf, Paracelsus Medical University, Salzburg, Austria
"We are currently using the Culture-Insert 2 Well to perform wounding experiments with somatic stem cells, and also the 2D chemotaxis slides to study the migratory behavior of these cells. We are very happy with the products, because they are user-friendly, especially for wounding assays, as we do not want to do scratching because of the inevitable high variability. However, with the ibidi Culture-Inserts, we can perform highly reproducible experiments. We will definitely use them again."
Renate Gehwolf
Institute of Tendon & Bone Regeneration
Paracelsus Medical University
Salzburg, Austria
https://www.pmu.ac.at/en/tendonsandbonesregeneration.html
Judith Cathcart, Advanced Optical Microscopy Facility, University Health Network, Toronto, Canada
"The ibidi chambers (Culture-Inserts 2 Well) we used in our wound healing assays helped to keep the cell free area clean and consistent in size without damaging the ECM or leading edge of the cell fronts, making analysis of results more manageable and comparable. They're convenient and easy to use and their small size helps to conserve precious cells and culture materials. We'd certainly use them again."
Judith Cathcart
Advanced Optical Microscopy Facility
University Health Network
Toronto
Canada
Jason W. Bjork, PhD, 3M Corporate Research Materials Laboratory, St. Paul, USA
"The ibidi Culture-Inserts 2 Well for wound healing assays provide a new line of testing for us. We wouldn't do traditional scratch assays at all because of the inherent variation, but with the new inserts we're able to provide many images to support our research. Our results are repeatable and reliable regardless of which researcher conducts the assay."
Jason W. Bjork
3M Research Materials Laboratory
St. Paul
USA
Ross Flockhart, PhD, Stanford School of Medicine, Stanford, USA
"The ibidi cell migration Culture-Inserts 2 Well enabled me to perform highly reproducible and quantitative migration experiments. Since physical scratching isn't required, uniformity is maintained and adverse wounding responses are not an issue.
The online quantification tool WimScratch for the assay is also fantastic and it yields quantitative data from the images extremely quickly with little effort required. I'd definitely recommend it for migration studies."
Ross Flockhart, PhD
Stanford School of Medicine
Department of Dermatology
Stanford
USA