Description
Specifications:
Number of wells
3
Outer dimensions
(w x l x h) in mm
8.4 x 12.15 x 5
Volume per well
70 µl
Growth area per well
0.22 cm²
Coating area per well
0.82 cm²
Width of cell free gap
500 µm +/- 50 µm
Material
Biocompatible silicone
Bottom
No bottom – sticky underside
Principle for Wound Healing and Migration Assays
Step 1:
cell seeding and attachment
Step 2:
remove insert after cultivation

Step 3:
overlay patches with culture medium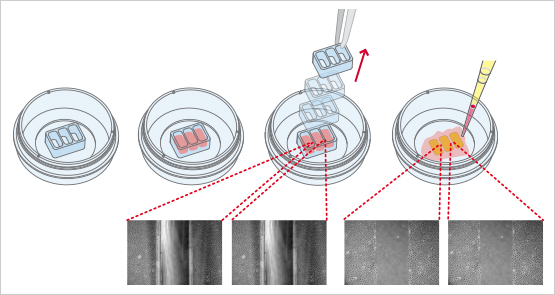 Various Applications
Wound Healing / Migration
Wound healing and migration assays are done by seeding cells into the Culture-Insert 3 Well. After cell attachment, two cell-free gaps are created in which the cell migration can be visualized. Compared to the 2 well version, more cells can be analyzed and a higher throughput is achieved. Two cell-free gaps create a technical replicate in the very same plate or dish.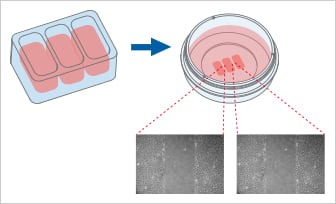 Two Conditions of Wound Healing / Migration
With the Culture-Insert 3 Well, a wound healing experiment and a control experiment can be done in the same well. The control cells can be pre-treated with any kind of treatment (e.g., drugs, plasmids, mRNA, or virus particles).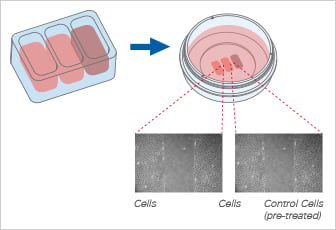 Co-Cultivation / Invasion
By seeding two different cell types, the invasiveness of adherent cells can be analyzed. Non-invasive cell types can be cultured next to each other, sharing the same medium. This co-culture allows the cells to communicate and share factors for differentiation studies or long-term culturing.
Invasion and co-cultivated cells can be imaged by high-resolution fluorescence microscopy.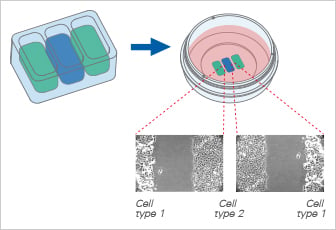 Visualization of Cell Migration
Henrike Rebl, University Medicine, Rostock, Germany
"I have tested the Culture-Insert 2 Well and 3 Well and they worked quite nicely. I will definitely use the ibidi Culture-Inserts and µ-Dishes again because they are so easy to use and they work great for fluorescence microscopy."
Henrike Rebl
University Medicine
Rostock, Germany
https://www.med.uni-rostock.de