Description
Comprehensive Phenotyping by Functional Cell Characterization
ibidi is a notable expert in the field of functional cell-based assays, with long-term hands-on knowledge as well as solution-finding experience for you, our customers. Benefit from over 10 years of ibidi?s expertise in developing and performing cell-based assays at our facility, as well as on-site technical training for establishing the assays at your own lab.
Chemotaxis is a crucial mechanism in various cellular processes, such as organism development or cancer cell migration. Using our technology, we are able to provide stable conditions over long time periods, while the cells are examined by video-microscopy.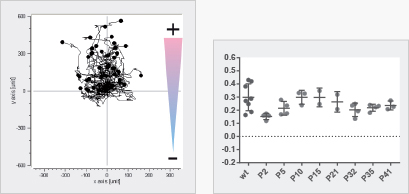 Chemotaxis assays of a wt and stable HT-1080 cell line, over 40 passages, performed in a ?-Slide Chemotaxis. A trajectory plot and the parallel FMI values of the obtained, high-content data are shown.
Using our technology for analyzing cells during the wound healing process is the best way to gain reproducible, high-content data. When investigating the potency of drugs, our specialized expertise enables high-throughput experimentation with reliable results.

Cell migration assay of epithelial cells in a ?-Plate 24 Well with Culture-Inserts. Various compounds (C1-C8) show different effects on cell front velocity.
Angiogenesis is an important process during organism development or cancer growth. Using our technology, we are able to provide high-throughput performance with a standardized and reliable approach.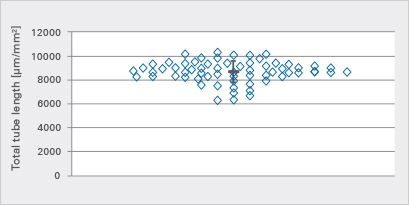 Tube formation assay of endothelial cells performed in a ?-Plate Angiogenesis 96 Well. The graph shows reproducible total tube length results in each well of the plate.