Description
ibidi offers the custom generation and production of recombinant adenoviral and lentiviral vectors that provide the highest flexibility for your research needs.
Our service includes the cloning of an expression cassette into the viral vector, transfection of the production cell line, and amplification of virus particles. In addition, the viral particles are purified and the infectious titer is determined.
Applications:
Fluorescent labeling or silencing of your protein of interest
Constitutive or inducible expression of transgene
Generation of stable cell lines for long-term expression (only lentiviral vectors)
High efficiency, also in difficult-to-transfect cells (e.g., neurons) or terminally differentiated cells (e.g., neutrophiles)
Adenovirus Generation
Recombinant adenoviruses are tools that are widely used in research and also in therapeutic applications. Due to their broad host tropism, they are ideal vectors for transferring genes into the majority of mammalian cells. Adenoviral vectors are the perfect tools for the high-level expression of recombinant proteins (e.g., rAV-LifeAct Adenoviral Vectors), and they also mediate very efficient gene knockdowns. Adenoviral vectors are episomal vectors that do not integrate into the host genome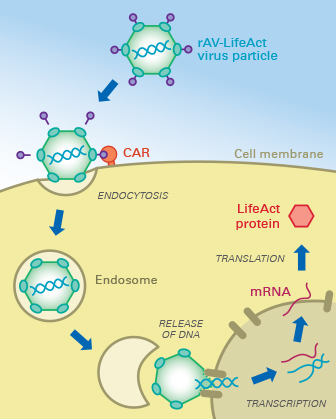 Transduction of mammalian cells using an adenoviral vector, here rAV-LifeAct
Lentivirus Generation
Recombinant lentiviral vectors (e.g., rLV-LifeAct Lentiviral Vectors), have been shown to be powerful tools for stable gene transfer to both dividing and non-dividing cells in vitro and in vivo as they integrate into the host genome. They have a broad host cell range that also includes cell types such as neurons, lymphocytes, and macrophages. Moreover, lentiviral vectors have also proven to be effective in transducing brain, liver, muscle, and retina in vivo without toxicity or immune responses.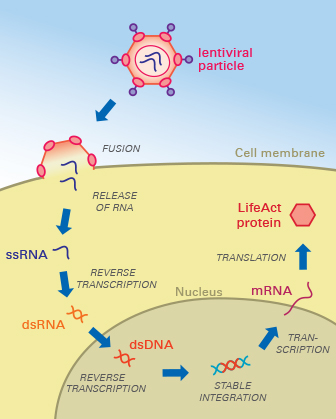 Fusion of a lentiviral vector with the cell membrane of mammalian cells