Description
Applications:
Analysis of up to 8 samples on one slide using the Roche Cedex® XS Analyzer
Determination of cell concentration and viability, diameter of detected objects, size and number of aggregates, and cell growth rates
Technical Features:
Smart Slides are sterilized and individually wrapped to ensure integrity and prevent contamination
ibiTreat surface for convenient liquid filling
Channel height of 200 µm with an actual sample volume of 0.78 µl using the Roche Cedex® XS Analyzer
Specifications:
Slide dimensions:
25.6 x 75.7 mm²
Total height:
1.61 mm
Number of channels:
8
Volume of each channel:
20 µl
Height of channels:
0.2 mm
Length of channels:
15.45 mm
Width of channels:
3.45 mm
Bottom: ibidi Polymer Coverslip (ibiTreat)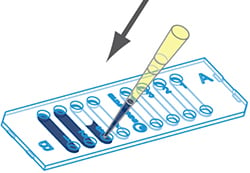 Fast and easy filling – 20 µl sample volume
Cedex® XS Analyzer
The Smart Slide was developed in cooperation with Roche Innovatis AG for the Cedex® XS Cell Analyzer. The Smart Slide is identical with the former former Roche product Cedex® Smart Slide package (15 x 8 measurements) (Roche order number: 05 650 801 001).
The Cedex® XS Analyzer combines fast results with a high image quality. Just 20 µl samples are required for a single analysis. In addition to cell concentration and cell viability, cell diameter and aggregate analysis are performed and displayed using histograms.
CEDEX® and INNOVATIS are trademarks of Roche Diagnostics.